Decoding The War Teen Breakout Room
April 18, 2022
When:
May 17, 2022 @ 4:00 pm – 5:00 pm
2022-05-17T16:00:00-04:00
2022-05-17T17:00:00-04:00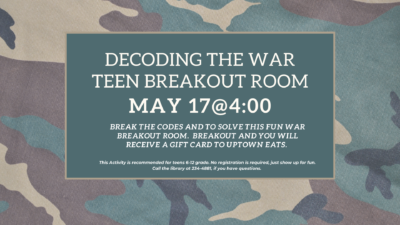 Break the codes and solve this fun war themed break out room for teens.  If you have what it takes to break out, you will receive a gift card to Uptown Eats.  So get a group of friends or come and make new friends at the library on Tuesday, May 17th.  The activity is recommended for ages 6-12 grade.  No registration required, just show up. If you have questions, please call the library at 234-4881.