Medicare & Senior Resources
September 17, 2021
When:
October 13, 2021 @ 11:00 am – 12:00 pm
2021-10-13T11:00:00-04:00
2021-10-13T12:00:00-04:00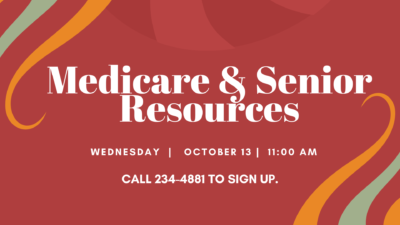 Howard Fryman will be at the library to answer your medicare questions. Howard is local broker that has 15 years experience in the business.  As the open enrollment period begins, many seniors have questions about Medicare and other resources available. Call 234-4881 to sign up for this program. Registration is strongly recommended, as space is limited
He will be covering the following topics:
Choosing A Medicare Plan
Understanding The Costs And Savings
Saving on Rx Costs
Avoiding The Call Center Pressure and Scams
Knowing What Plans Do Not Cover
Are Those "Extra" Benefits Really "Free"
Diabetes Savings Plans
Avoiding Problems With Your Local Medical Provider
Additional Benefits for veterans, spouses, and families.