Dolly Parton's Imagination Library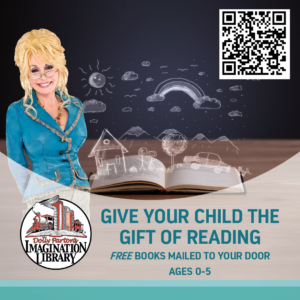 Dolly Parton's Imagination Library has made its Harrison County Debut at the library.  We are so excited for the opportunity to be part of this awesome program.   This program will deliver FREE age appropriate books to your child until their 5th birthday.   Stop by and fill out a registration form your child(ren) at the library. Children ages birth-5th Birthday  that live in Harrison County are eligible. Each child registered will receive one free book month until their 5th birthday. Spread the word! If you have questions, please call the library at 234-4881.    There are three ways you can sign up:  Stop by the library and fill out a form, sign up online http://imaginationlibrary.com, or print out the form and return to the library in person or by mail.
If you know of a business, organization, or individual who would like to donate funds to support this program in your local area, donations can be sent to: Harrison County Board of Education, Attn: Debbie Kendall,  308 Webster Ave, Cynthiana, KY 41031.