Christine Burgan Kentucky Room
Located inside the Cynthiana-Harrison County Public Library, this room contains all the tools needed for local and state history research in Harrison County, Kentucky.
The Log Cabin Newspaper:
The Log Cabin covers news in and around Harrison Co. as well as national news of interest. It is rich in the history of Cynthiana starting in 1896; from small town daily news like the County Clerk's brother having acute indigestion to our President signing a bill into law. The digitization and access to search this piece of history supports our patrons in researching their family and the history of Cynthiana. The microfilm dates run from January 1896 to September 1960 and were taken from bound copies of the printed newspapers. The Commonwealth of Kentucky Division of Archives and records Management started the process of filming the Log Cabin chronologically in January of 1979 and we presume the project was completed in 1989. Since then, the microfilm has been digitized and has been available on computers inside the Cynthiana-Harrison County Public Library. In 2020 and 2021 the Covid-19 Pandemic caused the temporary closure of this library and rendered this collection inaccessible to the public. The organization of this collection was undertaken by employees and volunteers of the library but was ultimately organized and the process completed by Roy Havlik at Northern Digital Preservation Specialists. It took the dedication of many individuals over the lifetime of this collection to make it accessible online today. Funding was provided for this project by the Cynthiana-Harrison County Public Library LeBus Fund, Kentucky Genealogical Society Grant, Robert Owen Grant, and the generous donation of time and effort by Roy Havlik and his team.
Search the Log Cabin archives here:
https://box2.nmtvault.com/CHCPL
Access Kentucky information in these databases
America's Historical Newspapers
Remote access available with library card.
Explore early American history to support genealogical and local history research, school homework assignments and more. Features more than 1,100 historical newspapers from all 50 states. Also available remotely 24/7 on any device.
---
Remote access available with library card.
Easily search and browse millions of genealogies, obituaries, marriage and birth announcements and more from 1652 to the present. Includes historical newspapers, books and documents, along with modern obituaries and the Social Security Death Index.
---
Must be on site to access through library login.
We've partnered with ProQuest to offer a special collection of records in the Ancestry Library Edition that will enhance the offerings of any library. In addition to a vast resource of collections, we offer a comprehensive research experience combining our advanced search technology and image viewing of original documents on Ancestry.com.
Ancestry Library Edition is available in the U.S., the UK, Australia, Canada, New Zealand, Denmark, Ireland and Norway, and provides access to billions of historical documents, millions of historical photos, plus local narratives, oral histories, indexes and other resources in over 30,000 databases that span from the 1500s to the 2000s.
---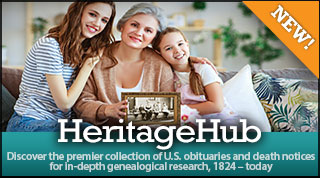 Remote access available with library card.
HeritageQuest® Online is a comprehensive treasury of American genealogical sources—rich in unique primary sources, local and family histories, and finding aids.
18th Century or 20th Century. European or Native American. Farm or Factory. East Coast or West Coast. Where does your American past begin?
Discover the amazing history of you with HeritageQuest Online. It delivers an essential collection of genealogical and historical sources—with coverage dating back to the 1700s—that can help people find their ancestors and discover a place's past.
Check out the Harrison County Historical Society too!